I visited a client's office recently to review a lease renewal strategy. Business is good, the customer list is growing, and HR is busy recruiting and hiring new associates. This is typically great news for a real estate consultant like me. Growth usually means the need for more space. But our conversation took a different turn during the walk-through of the space. We stopped near a storage room and my client said "…so, I don't need the space from here, to the party wall. Do you think the landlord would be willing to take this space back?" This thought process is a new trend that is redefining commercial office real estate. Here's what you need to know.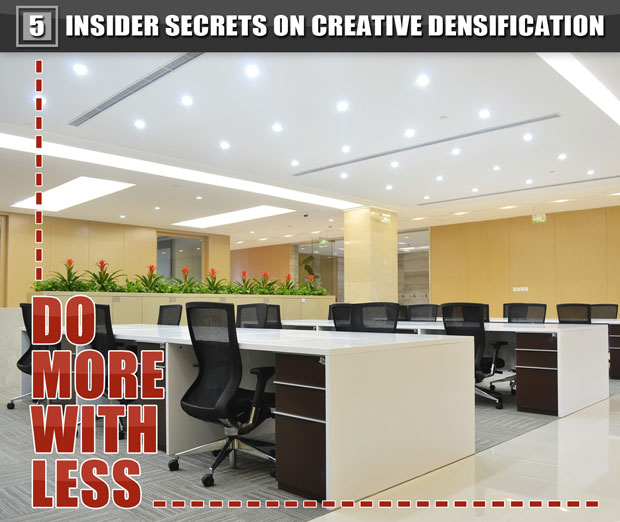 What is it?
Office densification is when companies lease less space per employee, using collaborative areas, mobile workstations and smaller, fewer personal offices. In essence, companies want to do more with less by using more flexible, modern and efficient accommodations.
From saving money to productivity and more 
What started out as a strategy to save money is now a conversation about productivity, employee satisfaction, and workforce flexibility. A thoughtful densification effort can address a company's need to maximize technology and attract and retain talent, while lowering the rent. But simply shrinking the space is not always the best option. The risk is not realizing that design and configuration are key components to right-sizing an office environment.
The impact of technology 
Success starts with your people. Understanding what drives them, how they work and what they need to succeed can make a huge impact on productivity. Think about it. The Millennials are already having an impact on the office market. For these individuals, technology is a way of life. From tablets and smartphones, to video conferencing and remote access to servers – the Millennials consider these must-have productivity tools at work and on personal time. Some recent data shows that Millennials prefer texting over phone calls because it's easier, and less intrusive. What does this all mean? There is less of a need to be at a desk. There is a need for more "band width" in the office as well as additional HVAC capacity and electrical supply.
Less space means effective workplace
A recent Gensler study on workplace trends showed that "knowledge workers" perform their tasks in four "work modes," focus, collaborate, learn, and socialize. An effective workplace connects with the worker on all four work modes. Based on these results, it makes sense that open space planning can have a huge impact on employee effectiveness, business performance, and opportunities to create a culture of innovation. Dating its roots to the 1960's with Herman Millers' introduction of the cubicle, today's open space planning features "benching," brainstorming areas, small conference rooms for private conversations and focus time as well as higher-end amenities like a coffee bar, ping pong table, and training/conference rooms. Storage rooms, file rooms, and libraries are off the modern office space plan, as are large private offices. Natural light, sound masking, glass walls, indoor air quality, and sustainability are all considerations of the well-designed, densified space.
 Final thoughts
There is a strong case for shifting real estate investment strategy away from traditional office markets that do not appeal to the Millennial workforce or the knowledge worker. The knowledge worker wants a flexible work environment, one that meets the four work modes, supported by technology, in a location within walking distance of public transportation and amenities. Landlords and institutional partners will be investing heavily in these locations to attract the knowledge worker dependent company. Transportation hubs in big cities, as well as smaller suburbs, will be highly sought-after locations. Design and configuration of these workplaces will support the tech savvy employee with areas to focus and collaborate – making densification a win-win.
John Morrissey is a Founding Partner of Jackson Cross Partners, LLC, a commercial real estate company headquartered in King of Prussia, PA. The company has developed a Knowledge Based platform to support corporate portfolio management and strategic transaction execution. Mr. Morrissey leads a cross-functional team that has developed processes for proactively managing a client's portfolio by aligning real estate objectives with the overall corporate strategic plan. Click here to contact John directly