Evan J. Frisina, student at Temple University Fox School of Business and Management, has earned a $3,000 scholarship awarded by the Philadelphia Regional Chapter of Society of Industrial and Office Realtors and the SIOR Foundation (SIORF) in recognition of his academic excellence at the University. Presentation of the scholarship took place on May 15, 2013, at the Temple Fox School of Business and Management in Philadelphia, PA.
"We are extremely pleased to announce the award of this prestigious scholarship to this particular student," said Philip Rothenberg, SIOR Past President of the Philadelphia Regional Chapter and Broker at Jackson Cross Partners of King of Prussia. Evan Frisina is an undergraduate in Business Administration who is majoring in real estate and finance, and will be graduating spring of 2014. He has an avid passion for Real Estate and is looking forward to starting his career in a diverse and dynamic market like the Philadelphia region.
The SIOR Philadelphia Regional Chapter is the leading professional commercial and industrial real estate association. With more than 3,000 members in 580 cities in 26 countries, the Society represents today's most knowledgeable, experienced, and successful commercial real estate brokerage specialists. Real estate professionals who hold the SIOR designation are recognized as the most experienced and capable practitioners in any market by real estate professionals from around the country.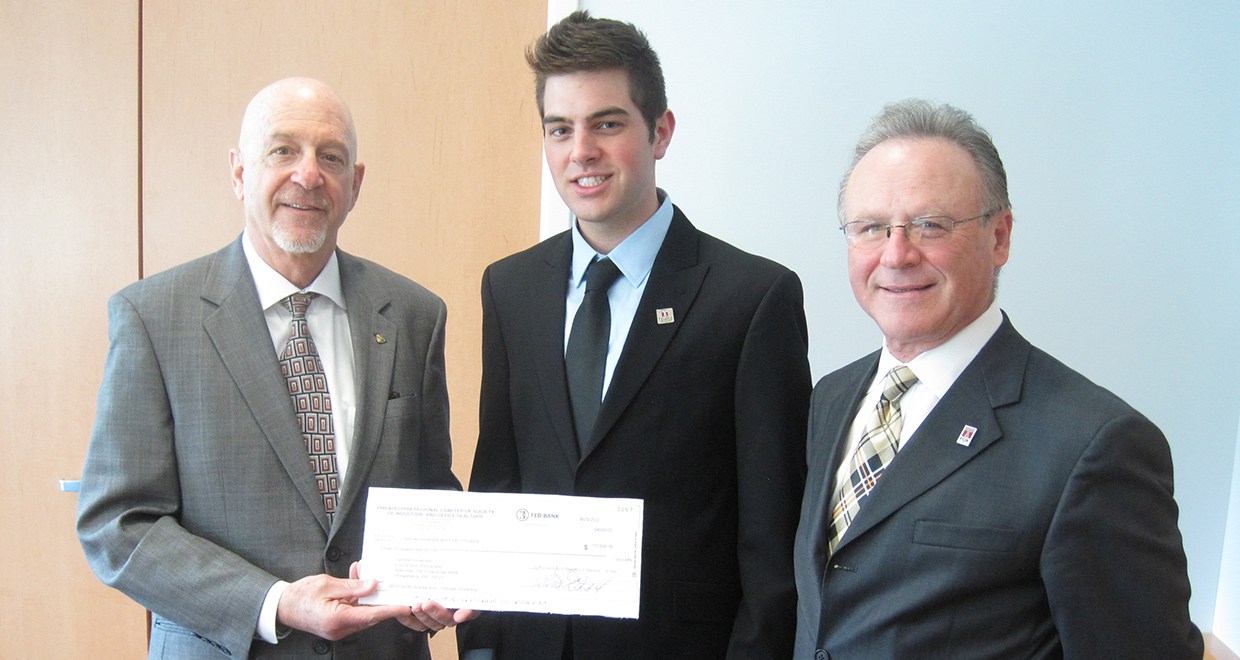 Shown from left to right in photo: Philip Rothenberg, SIOR Past President and Jackson Cross Partners Broker, Evan J. Frisina, scholarship recipient, and DR. M. Moshe Porat, Dean of The Fox School of Business and Management.